This was my first Lollapalooza Festival since I missed the first year and was a bit bummed. For the second year Lollapalooza made up for it with a stellar lineup featuring the Red Hot Chili Peppers as the headlining act and Soundgarden, Pearl Jam, Ministry, Ice Cube, The Jesus and Mary Chain and Lush performing on the main stage.
The side stage was incredible as well with Cypress Hill, House of Pain,  Ice-T, Porno for Pyros, Luscious Jackson and Stone Temple Pilots.  Some of the bands setlists are recorded and I did not get to see all the bands, which happens at large festivals.
Regardless it was an amazing day with beautiful weather. The one odd aspect was that it was held out on Lake Fairfax in the Virginia countryside. The roads leading in were jammed and we only missed the opening band Lush, which I don't regret.
Also there was no alcohol being sold since the lake was private property. Basically the stage was built in a big field somewhere near the lake. I don't remember seeing any water that day. Luckily my friend Jimmy was touring with Pearl Jam so he hooked me up with a free ticket and pass as well as a few beers backstage.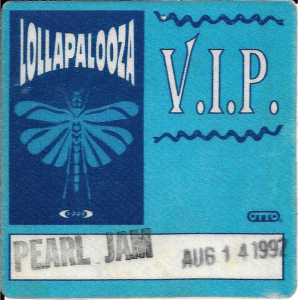 I had hung out with Jimmy and Pearl Jam's drummer Dave the night before at my house in Falls Church. Dave brought over his laundry and we hung out for the evening. For them I knew it was a break from hotels and venues and we had a good time.
The next day I headed to the show with several friends and we sat in the congested traffic for about an hour. Once we parked and made our way in Pearl Jam took the stage. Chris Cornell had come out to fill in for Eddie as he was en route and most likely did not have a cell phone! Cornell was just about to fill in when Eddie was spotted making his way towards the stage. The crowd parted and let him through as he got up on stage and told everyone, "thanks for waiting!"
Pearl Jam ripped into their set with Once as Eddie's last minute appearance had pumped up the crowd. Why Go and Jeremy followed and the band was sounding great.  Chris Cornell must have been itching to perform during their set and he did so, coming out and singing Hunger Strike. Four songs into my first Lollapalooza and I'm totally amazed. Temple of the Dog only performed live a few times and rarely outside of Seattle and I just was at one of them!
The rest of Pearl Jam's set was just as good. This was the first time I had seen the band as I missed their opening set the previous fall when they were opening for the Red Hot Chili Peppers. After their set I caught up with Jimmy and went back stage.
Jimmy showed me the tour bus that was sweet. I had a chance to meet Mike McCready briefly. We popped in a few of the tents and trailers and I saw Eddie hanging out for a few minutes.  The backstage area was messy with mud as the entire staging had been built that week.
I searched for and found some of my friends. Jesus and Mary Chain was playing and we checkout the layout and found the side stage. The only band I remember seeing on the side stage was Ice-T and was amazed that he had played the main stage just the prior year. Looking back I wish I had gone over to the side stage more but it was hard to get information in 92 about who was playing the side stage for each date.
Soundgarden was up next and I was able to make my way to the soundboard tower to meet up with Jimmy. The view from the tower was perfect and it was not too crowded.
I had seen Soundgarden a few months earlier during the Badmotorfinger tour. At that time they were in constant rotation on my CD player. To me they were the Seattle equivalent to Led Zeppelin, a strong, fierce four piece band led by a singer whose voice matched the thunderous music.
Soundgarden open up with Face Pollution before going into Gun, a great heavy guitar song. Mid set they were joined by Ice-T and did Cop Killer. The last 4 songs were all off Badmotorfinger. Searching With My Good Eye Closed was especially good and one of my favorites.
I caught a bit of Ministry's set mostly because Jimmy told me they did a cover of Black Sabbath's Supernaut, a song they would later cover on the Black Sabbath tribute album, Nativity in Black. I had not listened to them before and found their set to be very enjoyable. Supernaut was spot-on and I moved up closer to the stage to check out the band. The singer's mic stand was made of bones and skulls and was very cool.
I spent some time checking out the community area where Rock the Vote! and several other organizations had booths set up. This was the first festival I had really been to and it was interesting to see organizations with a cause talking to people.
The Chili Peppers had taken the stage about the time the sun set. The temperature cooled off a bit as it had been a hot August day. I had seen RHCP the previous fall during the first leg of the Blood, Sugar, Sex, Magic tour and was excited to see them again. John Fruiscante had quit the band a few months earlier while they were on tour in Japan and they quickly found a new guitar player.
RHCP opened with Give it Away, their big hit from Blood, Sugar, Sex, Magic. they also played some Parliament/George Clinton covers which allowed Flea to really get into the the heavy bass funk groove.  Another cover they performed was Bob Dylan's Subterranean Homesick Blues which I've grown to appreciate over the years. The Chili Pepper's take on this song really gives it a punk edge.
Also during their set RHCP donned chrome hard hats that were attached to propane tanks. On the top of the hard hat was a 2 inch tube that were lit and flames were coming out of the band's heads for a few songs. I had moved up closer to the stage at this point and it was a cool effect to say the least.
One of the best parts about seeing RHCP is that they do a lot of covers. The encore was no exception and this time it was Jimi Hendrix's Crosstown Traffic.  A great song and a great end to a fantastic festival of music.
Overall Lollapalooza 92 was an incredible event. I think it was the best of all the early festivals mostly because 3 of my favorite bands were on the bill. But also it was still very new and exciting event at that time. Also the lack of alcohol made it a friendlier even as people were not getting drunk and acting like idiots.
Now Lollapalooza is a multi-day festival and tours Latin America. However it no longer is the festival that was unique for a generation. Perry Farrell's original goal to bring different types of music together was unique then but now typical. For my generation this was our Woodstock. Festivals had died out in the US at that time and all the big tours were either pop acts or classic rock bands. Lollapalooza was the first festival that embrace emerging music that would soon dominate the airwaves.
There are still great acts at Lollapalooza but I miss the vibe that this show had.