U2 is one of the bands that I only had a few chances to see prior to this show. The last time they played near Raleigh area was in 1985 when they played at UNC's Kenan Stadium. There were a few times that I had a chance to see them when I lived in Washington, DC but it was the Zoo TV tour that did not get great reviews and I passed, (which was a total FAIL as Primus opened up for them).
The show sold out immediately and tickets were selling for 2-4 times the face value.  U2 had such a huge stage that the "floor" seating was the entire football field of Carter-Finely Stadium and were the cheapest tickets.  The caveat being that you had to stand the whole show.
My wife @mcdezigns and I decided to use social media to guage the value and supply of tickets.  We decided that we would scan Facebook and Craisglist for a good deal and barring any we would pay up to $100 each for the show the last few days.
Well the bet paid off in that we scored tickets off Craigslist the day before the show. In fact my wife met the seller in the parking lot while I watched my daughter cheerlead for Carolina Copperheads football just across the street at Cardinal Gibbons High School stadium.
I have to admit that this may have been the first time I used social media to get tickets! Typically I would go ahed and buy tickets early if I wanted to go to the show. That way you did not have to deal with scalpers.
With tickets in hand we were ready for the show. We were able to tailgate with some of my oldest friends and college roommates. Along the way into the show I ran into several people, some of which I had not seen since college and gave a quick hello, high five, hug and shake and made our way down to the field. Also the show was just a few days after my birthday so it was great to celebrate with friends old and new.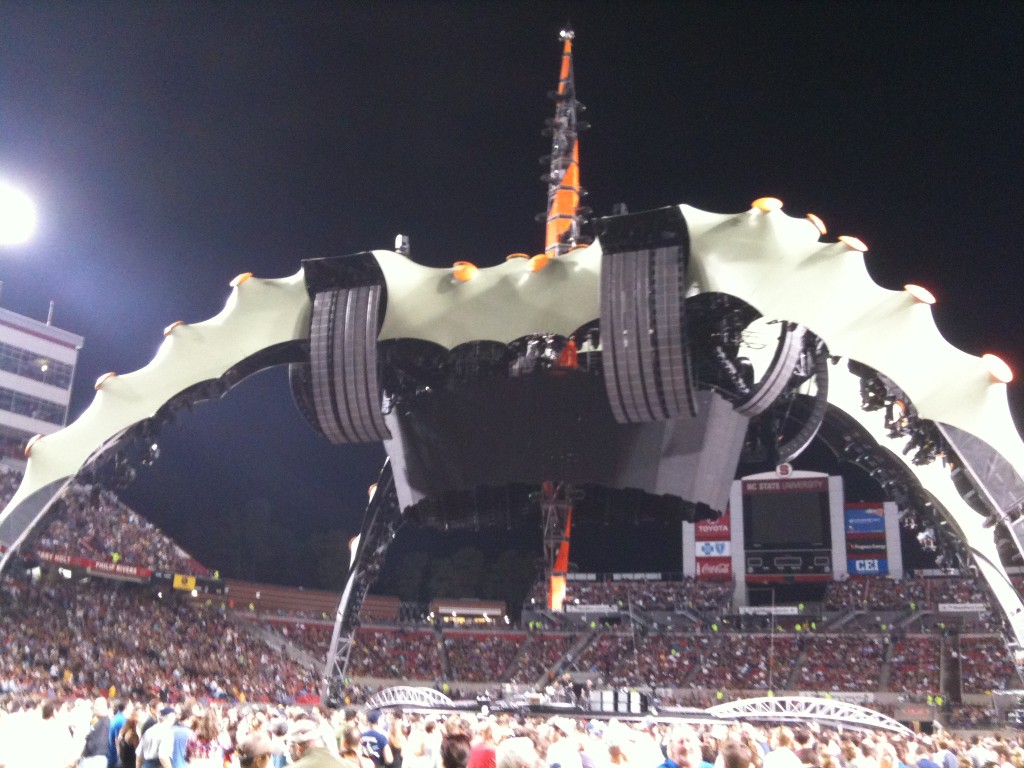 To say the stage was huge is an understatement! It resembled a giant tripod but with 4 legs, with a Sci-Fi look and feel. In the center was a moving video screen made up of hundres of LED flat panel screens. The screens would move and change shape during the show.  Almost like "breathing" between songs.
Muse was the opening band and we were able to catch most of their set. I like Muse and enjoyed as much of their set as I could. The problem was typical for the opening band, they sounded like crap because you don't want the opening band to sound better than the headliner. They owned as much of the stage as they could.
U2 came out to a roaring crowd! The opened with Breathe and Get on Your Boots off the new album No Line on The Horizon.  From there they played Mysterious Ways and then ripped into Beautiful Day. I have to admit that I really love this song. It has amazing energy and I was not disappointed.
After a few more songs they transitioned into my favorite U2 song, New Year's Day. I can still remember the feeling I had when I saw this video on MTV in high school. It has such a great sound and beat with the opening keyboard and guitar parts. The Edge did not let me down! The continued into I Still Haven't Found What I'm Looking For.  We were halfway into the first set and I have to admit I was blown away.
The set ended strong with Sunday Bloody Sunday, MLK and Walk On. All of these songs speak to me on a personal level. Sunday Bloody Sunday is one of the greatest protest songs ever. MLK represents one of the greatest men of our history while Walk On is another fantastic protest song for someone I've never heard of. Yet I find it hard to listen to that song and not feel a connection.
After the set break the U2 came out with One. Bono is one of handful of lead singers that has amazing stage presence as well as seems incredibly humble. I've grown to respect his dedication to eradicating AIDS in Africa and being a voice for poverty.
Bono also had a young boy from the audience come up during City of Blinding Lights and share the stage. No doubt that young boy had an experience of a lifetime. Bono also asked for fans to use their cell phones to support one.org. Of course the major challenge was getting online as the providers towers can't handle the 40,000+ users all at one location.
The show ended with a second encore that began with Ultraviolet. During the song a giant antenna came out of the top of the stage with rotating lights. It was amazing and very cool. The next song was With or Without You which really had the crowd engaged singing along with Bono. The show closed with Moment of Surrender.
I have to say that this show was a favorite concert in many ways. U2 is an iconic band that understands its fans and delivers on the performance. They created an unforgettable experience through the video, lights and sounds that brought the community together for the evening.
Did you attend this show? If so what did you like about the performance? Was it one of your favorite concerts?